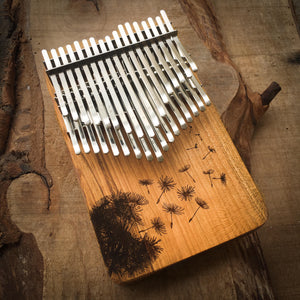 * video in the making*
We have developed for you our first artisan kalimba, made in France and not the least!
A chromatic kalimba. This Kalimmba has the particularity of having two rows of 17keys,  tones on the bottom row (equivalent to the white keys of the piano) and  half tones on the top row (equivalent to the black keys of the piano) Which will allow you to play a wide variety of music without asking you any more questions about the limited number of keys or the tuning change. A liberation in your musical possibilities.
***
Made of local wild cherry wood, dried naturally for 40 years, and treated with oil/wax to maintain a touch and natural appearance, "BREATH" is an invitation to calm and relaxation.

The sound is clear and full of roundness, warm and positive! The vibration in the hands is very strong and allows you to feel the music physically
This kalimba benefits from an excellent sound projection, for those who want to be able to play loud, or on the contrary  softer. The note duration is median, which makes this kalimba an instrument suitable for faster and more rhythmic playing.

All this makes "Breath" highly effective against stress and anxiety, helping to blow hard to deal with emotions (hence its name and design) and regain some self control
BREATH is also the featherweight of our utopia series, with a weight varying from 450 to 520g.
***
Each piece of wood being unique, with its small differences in density, we choose the tuning that sounds best after several tests. We therefore advise you to keep this tuning in the future.
1.TUNING STYLE FULL CHROMA
Each tone has its half-tone corresponding right above. Repetition of 4 and 1 for ease of playing.
18 tones, 12 half tones + 4 repeated at the top
Accessible to beginners



2.TUNING STYLE CHROMA +
Same principle as above with omission of a half tone, for a kalimba with a slightly larger range being  19 tones, 11 half tones + 4 repeated
Accessible to beginners

3. TUNING STYLE CHROMA + non redundant
Tones from ° 4 to 5 ° ° A large range for many playing abilities
23 tones + 11 half tones Without repetitions.
Only available  in C and B tunings

Best tuning for musicians or regular kalimba players
It is also accessible to beginners but it remains a little more complex, thus takes a little more effort to learn


Which tone to choose?
All our instruments are tuned in major mode. Whether you choose a tuning in C, B, Bb or A, you can play the same songs. Make your choice according to your hearing preferences.

Do you like high pitched sounds? Choose a C or B
Do you like mezzo sounds? Choose a Bb, A, or G
Do you like low sounds? Choose one, F # , F or E



General information
Type FLAT
keys: :34
weed species : french wild cherry
Numbered keys YES
Delivered with :
-tunning hammer
- tuning plier
-Hard case
-Double tremolo Chain
-Cleaning cloth