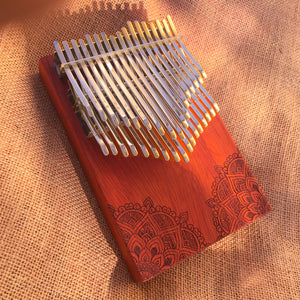 UTOPIA series kalimba is made in france by hand, in our workshop. Each kalimba is a little piece of art and is unique!
This kalimba has the particularity of having two rows of 17 blades, the tones on the bottom row (equivalent to the white keys of the piano) and the semitones on the top row (equivalent to the black keys of the piano) which will allow you to play a wide variety of music without having you worrying about Key limitations or tuning changes like in 1 row basic kalimbas.
Free yourself and your musical possibilities!
*****
INDIA is made of padauk wood. It has a crystal clear sound, of great purity and richness, long sustain, with loud sound volume for a flatboard kalimba. 
INDIA mixes, in an interesting way, a bright natural orange to red color, engraved with mandalas in the corners, a spicy smell reminiscent of India, with a celestial timbre, reminiscent of  tinkling bells sound
*****
Each piece of wood being unique, with its small differences in density, we choose the tuning that sounds best after several tests for each kalimba.  We advise you to keep this tuning in the future.
******************************  3 TUNING SETUPS  *******************************
1. FULL CHROMA
Each note has its sharp (#) above for an easy play. 4 and 1 keys are redundant ( repeated) on the top layer of keys
18 notes ,12 sharps + 4 redundant notes on upper layer
beginner friendly!



2. CHROMA +
Same as full chroma minus one sharp , + 1 note for a bigger range 19 notes ,11 sharps + 4 redundant notes on the upper layer
Beginner friendly

3. CHROMA + non redondant
notes from °4 to 5°°, no redundance. A big range of notes for much more playing possibilities!f
23 notes + 11 sharps no redundant keys.
This set up is the hardest one to make, so in each batch of kalimba there are only a few pieces available. Always tuned in B or C

Can be played by beginners but it will be easier for intermediate to advanced players or musicians.


Which tuning  to choose?
All our instruments are tuned in major mode. Whether you choose a tuning in C, B, Bb, A, or others you can play the same music pieces. Make your choice according to your hearing preferences. Are you more sensitive to high or bass sounds?
If you prefer
a soprano instrument - opt for a C or B tuning
a mezzo instrument- opt for a Bb or A  tuning
an Alto instrument - opt for a G, F# or F tuning



GENERAL INFORMATION:
Type  FLAT
number of Keys: :34
basic material: padauk
engraved keys: yes

Comes with:
-Tuning hammer
-tuning pliers
-Hard case
-cleaning cloth
-Double tremollo chain