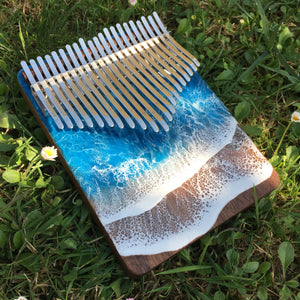 Dark wood reminiscent of the volcanic island's fine sand, dark turquoise waves playing with light….
 Take a trip without moving from home with Maui, our 21keys version of our beautiful Hawaii- inspired kalimba! 
Made of black walnut wood, wood parts left raw for a maximized 3D effect.  The keys are mounted on our all-metal system, which lengthens the sound duration and greatly increases the vibratory properties of the instrument to allow you to physically feel the music.
Timbre is mostly dark and mysterious, halfway between round and crystalline for a nice balance, and neat sound
A moment of freedom for your mind.

General info
TYPE: FLAT
Number of keys 21
tuning: C or B
thickness: 2cm
wood: Black walnut + resin 
Engraved keys yes
Accessories
-storage pocket 
-Tuning hammer
-Cleaning cloth