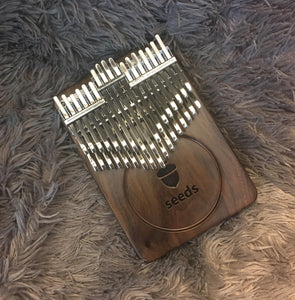 Here is the colour kalimba from seeds!
A beautiful instrument with a rather brilliant sound, of great clarity.
Its sound volume is medium, making it the perfect instrument for anyone looking for a discreet instrument.
The layout of notes is quite unique.
On the bottom row: like a basic kalimba 17 blades
On the top row: + 4 middle blades = kalimba 21 blades
+ all other keys= chromatic kalimba.
The 4 extra notes were cleverly placed to be on the same level as the others and facilitated the fingering.

This is a semi chromatic since there are no # for 1.2.3.and 4.


Tuning: C Major
number of keys:34
FLAT type
Species: Walnut
Weight: 655 g
Thickness: 2.5 cm
Numbered slides: partly ( bottom, + 4 notes top)


Delivered with:
-Tuning hammer
-Hard case
-Tremolo chain
- Sheet music booklet